Services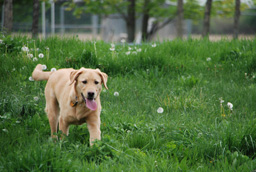 Boarding
Our canine companions
Our guests reside in suites with an outdoor patio. In pleasant weather, our guests have access to the patios at all times. We keep our guests comfortable with central air conditioning and radiant heat during extreme weather.
Housekeeping visits each individual suite at least twice a day (more if necessary) to provide fresh bedding and fresh water. All outside areas are cleaned as needed. Room service is also available twice a day. Both housekeeping and room service are included in the daily board fee.
Feline friends
Our feline accommodations are spacious and comfortable, some with an outside view. Fluffy bedding, food and water are provided.
Caretakers visit with all guests throughout the day.
Hours for Pick-up and Delivery
Monday – Saturday
8 – 10 a.m.
4 – 6 p.m.
Sunday
5 – 6 p.m.
Closed Major Holidays (New Year's Eve and New Years Day, Easter Sunday, Memorial Day plus Sunday before, July 4th, Labor Day plus Sunday before, Thanksgiving and Black Friday, Christmas Eve and Christmas Day)
Required Vaccinations
Dogs
Rabies, Distemper, Parvo, Adenovirus 2, Hepatitis, and Intranasal Bordatella (Kennel Cough) We do not require Influenza Vaccine.
Cats
FVRCP (feline viral rhinotracheitis; calcivirus; panleukopenia) and Rabies
Proof of vaccinations is required from your veterinarian.
We recommend use of a once-a-month flea/tick preventative such as Advantage and the use of a monthly heartworm preventative. Please consult your veterinarian for advice and usage of products.
Please Note:
A three day minimum stay is required during peak boarding periods
We may require a deposit
We reserve the right to:

Groom any animal that becomes soiled during its stay
Dip or bathe any animal that may be infested with ticks or fleas

Boarding charges begin the day your pet arrives and includes charges for the day your pet goes home, if you pick up in the afternoon. If your pet goes home in the morning, there is no charge for that day.
Pet owners agree, when boarding with us, to accept all responsibility for payment of usual and customary charges for these services, if they are necessary.
Please read the Boarding Agreement. Leaving your pet with us constitutes your agreement to abide by this contract in full.
Grooming-Currently unavailable 8/1/2022
Our services range from a "no-frills bath" to full grooms.
Grooming prices vary according to the dog's size, breed, coat condition, coat length, and amount of brushing or trimming desired. Call (317) 989-DOGS (3647) to talk to our groomer.
Playtimes
We offer playtimes while your dog is boarding. Your dog can:
Go for a one-on-one walk
Play in the play yard or big, grassy field without other dogs except family members

Have some office cuddle time